Here we answer all the common questions that most of our customers have, so chances are your question already has an answer. If you do not find the question you are looking for here, please leave us a message on our contact page.
COMPANY RELATED QUESTIONS
Is Peruchos Food a Peruvian company?
Peruchos Food LLC, is an American company registered in 2019 with headquarters in Florida, two of its partners are Peruvians.
Do you have customer service in Spanish?
Yes, our customer service is bilingual in both Spanish and English.
How can I contact you?
You can write to us on our contact form or chat with us in the chat service, both in Spanish and English.
Do you have a physical store to buy your products?
All our sales are mainly online, however, we can also sell our products in the Miami warehouse
Why do you have only Peruvian products?
Yes, our main motivation is to make Peruvian gastronomic culture known in the USA, since sometimes it is difficult to get the ingredients of Peruvian food outside of Peru.
Why should I buy on your website, if many of the Peruvian products are also sold on other online platforms such as Amazon?
In fact, you can do that too, we also sell our products on all Online Marketplaces like Amazon, eBay, or Walmart, we are the largest sellers of Peruvian products on those platforms, however, our website prices, including shipping, are cheaper than on other platforms such as Amazon, since on these marketplaces the prices are adjusted by adding shipping and the additional 15% or 18% charged by the platform into the retail price. In addition, you will have continuous discounts, faster-personalized customer service in English or Spanish, and in this way, you will help us to maintain this project of making fabulous Peruvian food known to the world.
SHIPPING RELATED QUESTIONS
I have an urgent need for a product, can I get it in 1 day?
Yes, you just have to choose the Express shipping service and it will arrive the next day or two.
Do you have free shipping within the USA?
Yes, for now, we have free shipping for all orders of $100 or more within the USA, we are also very close to opening our member's club, where subscribers will have many benefits, including free shipping. When the club opens we will notify all our clients so that they can subscribe, You can also sign up here and we will notify you.
How do I know when my order will arrive?
We will always keep constant information about your order via e-mail, once we process your order we will send you the tracking number so that you can track your package, you can also go to your account area at any time and check the status and track any of your orders.
How long does it take to ship my order?
Our warehouse is located in Miami and we ship from there to the entire United States, Canada, and Europe. Shipping within the United States typically takes 3-5 business days.
PRODUCTS RELATED QUESTIONS
Is the expiration date of Peruvian products the same as those of the USA?
No, Let us explain something about Peruvian products. All our products are made in Peru, almost all Peruvian products have a shelf life of about 5-6 months, but pastes, canned, and others have up to 1 year, this is because they have fewer preservatives than here in the USA, which makes them much more natural and fresh, that is why they are the favorites of many people here.
Also, we import all our products directly from Peru, and this process normally takes 25 – 50 days in a normal situation. Having said this, we can assure you that your products are part of our most recent lot received from Peru. Be aware that some of our products may have the expiration date written in a Hispanic format, Day/Month/Year.
So do not worry these products are perfect and safe to consume, we never ship expired products.
What is the expiration date of your products?
It depends, each product varies its expiration date, generally pasta and canned goods have a longer expiration date of up to 1 year, treats and chocolates have up to 8 months, etc. All products have their expiration date stamped on the package. In fact, due to high turnover, all of our products are fresh.
How do I know when an out-of-stock product arrives?
If a product is out of stock, you can join the waiting list by clicking on the link as shown in the photo below, once the product arrives and is on sale we will notify you by email.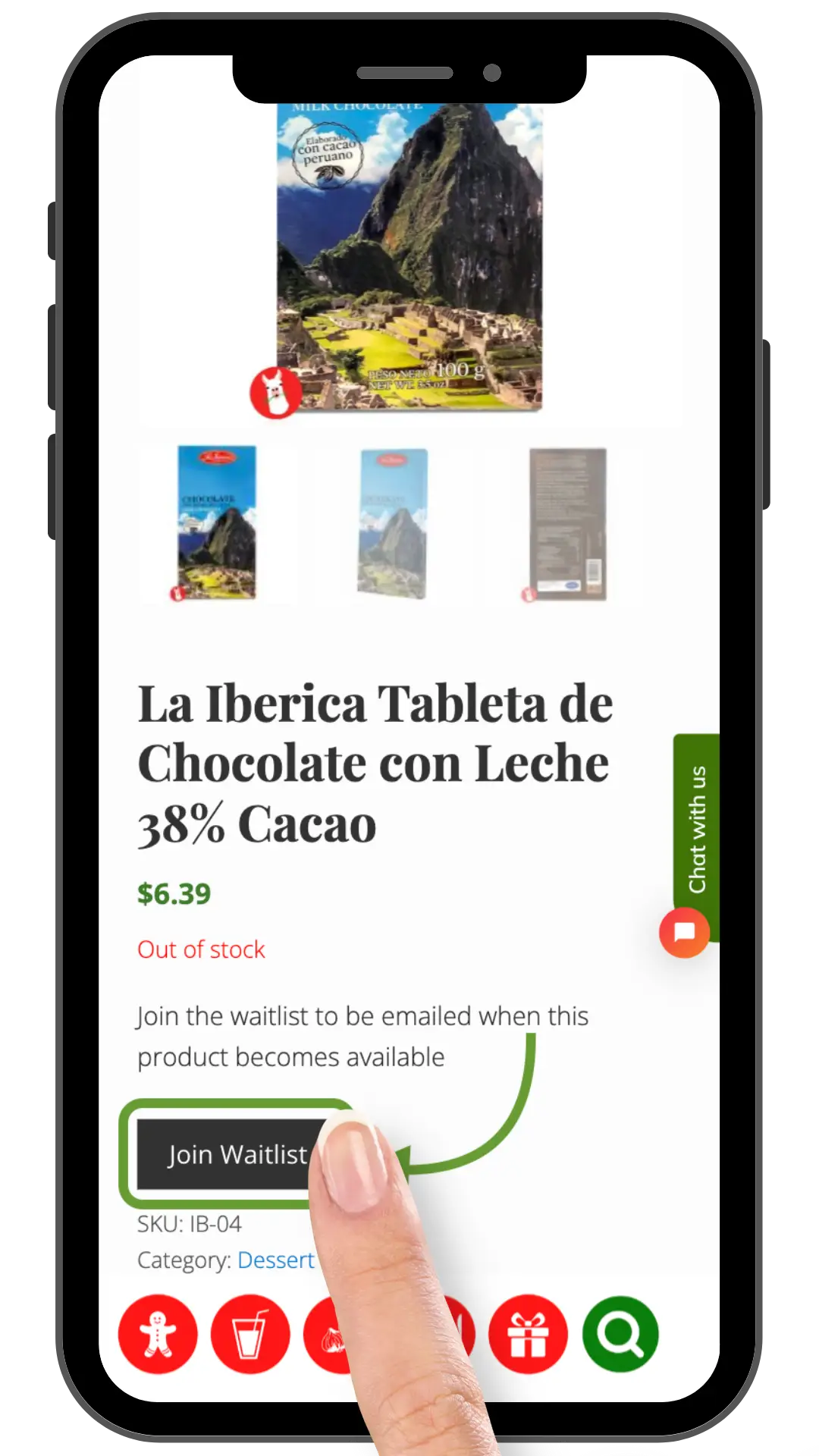 How do you keep your prices competitive?
We get the best wholesale prices directly from our suppliers in Peru, since our sales are primarily online, we do not have many operating expenses like storefront rentals or too many employees, In addition, we develop and design our website ourselves, So in this way, we can offer the most competitive prices to our customers.
ORDERS RELATED QUESTIONS
I don't remember my password, how do I get it back?
You can go to my account area and request a new password in the "LOST YOUR PASSWORD" link or just click this button below, then you will receive an email with instructions to set a new password.
How can I review a product & receive a discount?
If you are a customer of our website and have purchased a product, you can give us a review of that product and get a discount, just go to that product and add your feedback in the reviews tab, then, we will review your feedback in order to avoid spams, after we approved it you will receive a discount code for your next purchase. Check out the video below for more information on how to leave a review.
I can't find my discount coupon, how do I get it?
You can go to my account area in the coupons section, and there you will find all active coupons and previously used ones
What if any of my products arrive broken?
We know that on rare occasions the postal service handles packages incorrectly. But do not worry, if something arrives broken, we will send you a new product as soon as possible without any additional cost, you just have to contact us to let us know and send us a photo of the damaged products to open a case with USPS.
What if I get some of your products cheaper elsewhere online?
If you go to another online site and get one of our products at a better price, after including any shipping charges or costs, then you can ask us for a price match using the link we have on each product (check the image below). We will then review your request and we will try to match or beat the price including shipping.