Peruchef Crema de Aji Para Cebiche | Yellow Hot Pepper Ceviche Sauce 10.5 oz
The Peru Chef yellow hot pepper ceviche sauce is a flavorful, spicy, versatile hot sauce made from Peruvian yellow peppers. This sauce embodies the soul and freshness of Peruvian cuisine. This sauce is the perfect way to bring people together and to add heat to your dishes! Make this sauce a staple in your pantry
Experience the tangy and vibrant hot sauce to your ceviche recipes!
Expiration date can be stamped in Spanish format, dd/mm/yy
Net Weight 10.5 oz. Imported from Peru.
Features:
Peruchef Yellow Hot Pepper Ceviche Sauce Marinade | Crema de Ají para cebiche marca Peruchef
This Sauce gives it the exact spiciness that Peruvian ceviche has | Le da el picante exacto que tiene el ceviche Peruano
10.5 oz Bottle | Botella de 300 gr
Only 7 Calories per service | solo 7 Calorias por servicio
Made in Peru, Expiration date can be stamped in Spanish format, dd/mm/yy
Ingredients:
Yellow pepper, vegetable all, sal, acidity regulator (INS 330), preservalive (INS 211) and stabilizer (INS 417).
---
Made in a plant where products with Peanuts, eggs, gluten, soy and milk are processed.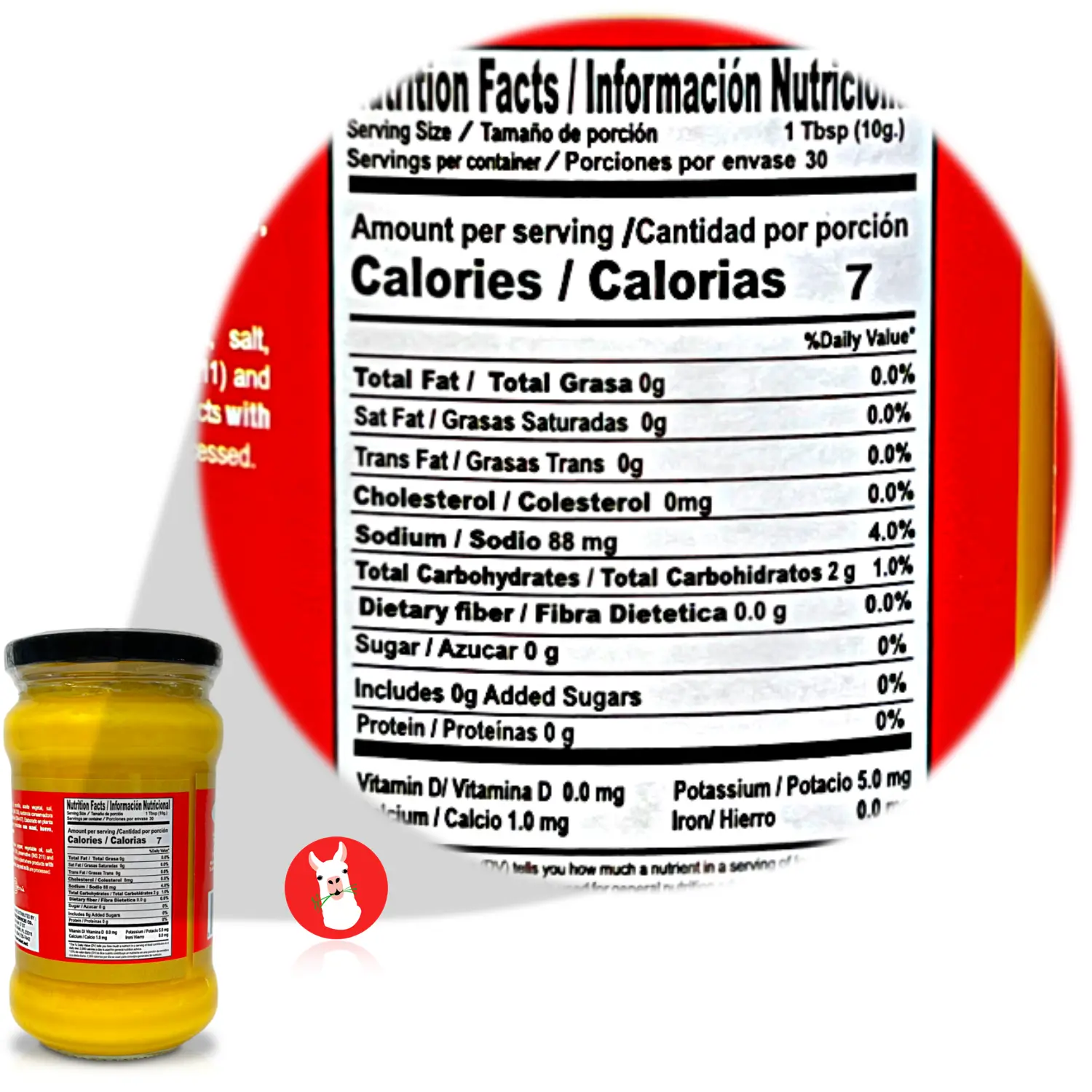 Nutrition Facts
Refer to the product label for full dietary information, which may be available as an alternative product image.
About 30 servings per container.
Serving Size 1 Tbsp (10g)
Percent Daily Values (DV) are based on a 2,000 calorie diet.