PeruChef te Uña de Gato 20 Sobres Filtrantes | Cats claw 20 Tea bags
1 box of Cats claw tea, Peruchef brand. Box (0.71 oz net weight) contains 20 tea bags. The benefits of chamomile tea are among others, that it Increases immune system, fight virus, asthma, sinusitis, cough and allergies. Imported from Peru. Expiration date can be stamped in Spanish format, dd/mm/yy
1 caja de té de Uña de gato, marca Peruchef. La caja (0,71 oz de peso neto) contiene 20 bolsitas de té. Los beneficios del té de manzanilla son, entre otros, que aumenta el sistema inmunológico, combate los virus, el asma, la sinusitis, la tos y las alergias. Importado de Perú.
Features:
Peruchef Cats Claw | Té de Uña de Gato importado de Peru
100% Natural, no contains dyes, preservatives or artificial chemicals | Sin colorantes, preservates o químicos artificiales
The box contains 20 tea bags | La caja tiene 20 sobres filtrantes por caja | Net weight 0.85 oz or 24 g
Benefits: Increases immune system, fight virus, asthma, sinusitis, cough and allergies
Imported from Perú. Expiration date can be stamped in Spanish format, dd/mm/yy
Ingredients:
Cats claw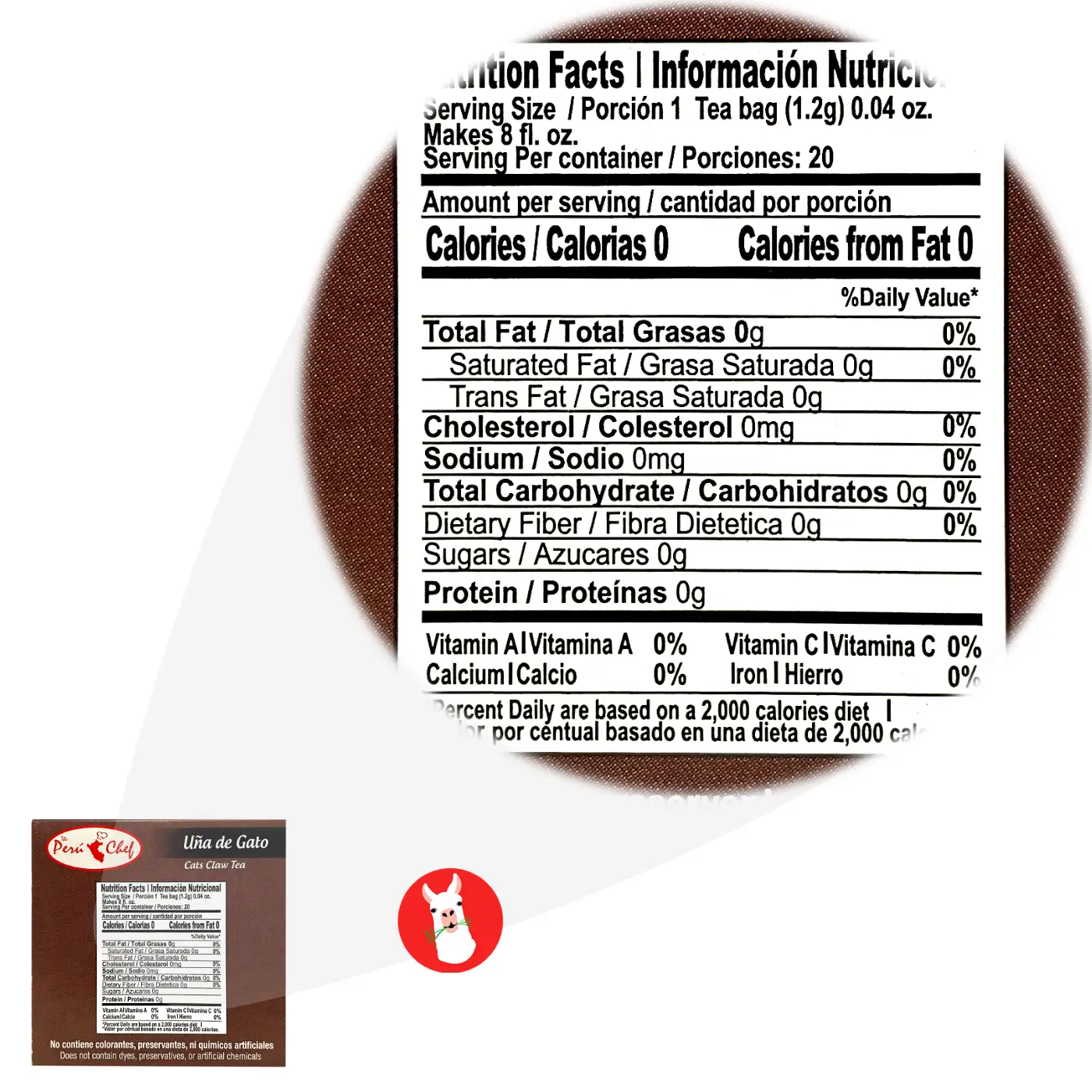 Nutrition Facts
Refer to the product label for full dietary information, which may be available as an alternative product image.
About 20 servings per container.
Serving Size 1 tea bag (1.2g) makes 8 fl. oz.
Percent Daily Values (DV) are based on a 2,000 calorie diet.