Descripción en Español ↓
Peruvian Leather Handmade Coasters 6 Units
Enjoy with your family and friends a little piece of Peru, drinking your favorite drink and using these wonderful leather coasters, handmade in Peru.
This Peruvian craft consists of six (6) leather coasters with the Machu Picchu or Peruvian Llama scene carved by hand and a handmade leather case.
This is a true work of art craft made and imported from Peru, that will give a real touch of originality to your meetings.
Features:
Original Peruvian Leather Handmade Coaster , genuine peruvian crafts
Two (2) different models available, Machu Picchu coasters and Peruvian Llama coasters available
Free shipping
Leather case included
Six (6) leather coaster included
Made in Peru, imported from Peru
---
Portavasos de Cuero hechos a mano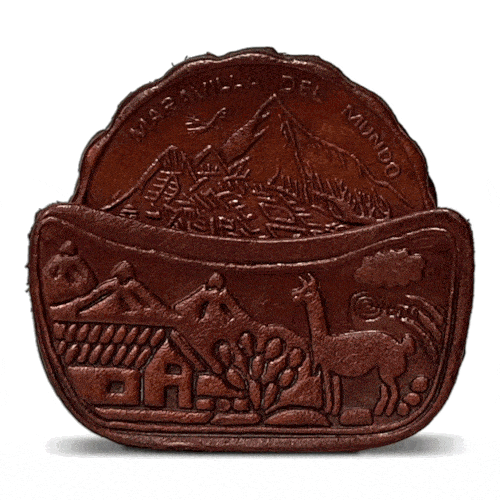 Disfruta con tu familia y amigos de un pedacito de Perú, bebiendo tu bebida favorita y usando estos maravillosos posavasos de cuero, hechos a mano en Perú.
Es una artesanía peruana que consta de seis (6) posavasos de cuero con la escena de Machu Picchu o de llama Peruana, tallada a mano y una caja de cuero hecha a mano.
Esta es una verdadera obra de arte importada y hecha en el Perú, que le dará un verdadero toque de originalidad a sus reuniones.
Características:
Posavasos de cuero peruano original hecho a mano | artesanía peruana genuina
Dos (2) modelos diferentes disponibles | el modelo Machu Picchu y el Llama Peruana
Envio gratis incluido
Funda de cuero incluida
Seis (6) posavasos de cuero incluidos
Hecho en Perú, importado del Perú